Careers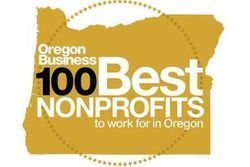 VIM was ranked one of 100 Best Nonprofits to work for in Oregon in 2020 and 2021 and won the "Inspiring Workplace" Award from the 2022 Bend Chamber Business Excellence Awards.
Passion. That's the common attribute of those that work for our organization. Complementing VIM's tremendous cadre of volunteers are full and part-time staff members who oversee and coordinate all the nuts and bolts of running a medical facility.
This includes oversight of all the medical treatment, volunteer recruitment, training and scheduling, patient management, fundraising, community partnerships and administrative services. Although we each have our individual areas of expertise, we all chip in whenever it is needed, right down to cleaning up the kitchen and shoveling snow.
Like our volunteers, each of us is here because we want to be. And that sense of purpose is what makes us proud to be part of a non-profit that has such a positive impact on our community.
Interested in working at VIM? Complete our employment application and we'll be in touch if your skills are a match for any of our open positions.